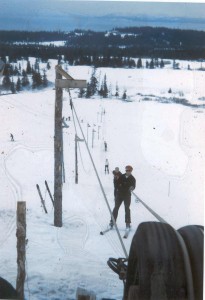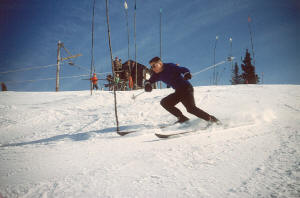 The history of the Kachemak Ski Club in Homer began in 1948 with a gas powered engine towing riders up the hill near Diamond Creek Road. The club was formed around this original location and moved to several different places in search of the best snow and orientation.  At one point the Air Force base on Ohlson Mountain proper was the site of most of the skiing in town.
At another point the Ski Club operated by shuttling skiers up East Hill Road in station wagons and picking them up at the bottom.
Several Ski Club members were able to get college scholarships based on their dominance of the local ski competitions. Kachemak Ski Club offers the Rowan Springer Memorial Scholarship annually in memory of one of our favorite skiers.
The Ski Club moved to it's current property in the 1970s.  For more information about Kachemak Ski Club history and other homegrown ski areas in Alaska visit Alaska Lost Ski Areas Project.
Also, the Homer News had a good story by Mike Armstrong detailing the history of the Ski Club and downhill skiing around Homer.