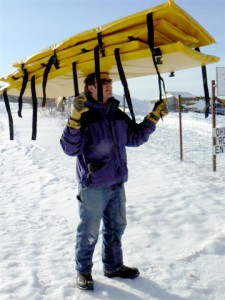 The Kachemak Ski Club owns and operates the Ohlson Mt. rope Tow on Ohlson Mt.  Road. We are a 501(c) 4 non-profit organization run by volunteers from the community for over 50 years.
There are 20 acres of terrain accessible from the 850′ tow with 260′ of vertical. While the lower slope is perfect for beginners the steeper upper slope and gullies offer fun to more advanced skiers and boarders. There is a warm-up lodge with a wood stove and picnic tables at the base of the slope.
We always appreciate any form of volunteer help we are offered – in the summer and fall we often have work parties to clear trails, maintain equipment and keep our buildings up.  Once ski season starts we benefit from having 4-6 volunteers each Sunday to take shifts operating the tow and signing riders in.  All our volunteers are required to have First Aid/CPR and Kachemak Ski Club will pay for new volunteers to be certified.
Kachemak Ski Club's current Board of Directors
| Member | Title |
| --- | --- |
| Dr. Randy Wiest | President |
| George Overpeck | Vice President |
| Karen Northrop | Treasurer |
| Nell Gustafson | Secretary |
| Kurtis Schoenberg | Member at Large |
| Doug Malone | Member at Large |
| Lindsay Wolter | Member at Large |
| Steve Shulz | Member at large |
| Bill Wiebe | Ex-Officio (Former President) |
| Bob Shavelson | Ex-Officio (Former President) |